We use assessments for various purposes:
To ensure that we are delivering an outstanding experience to participants
To help us gauge the impact of our programs (both on a per program basis as well as cumulative, and over time).
To help participants reflect on their experiences
We model assessments in the following ways:
Time Periods
There are three time periods during which participants could be asked to complete an assessment:
Pre: during the 7 days before the start of a program
Post: during 7 days following the end of the in-person program
PostPractice: during the 7 days following the end of the practice period. The end of the practice period is either:

The end of the capstone (if there is one scheduled)
The end of the 28-day challenge.
Currently, we schedule the following assessments for those time periods:
Time Period
Assessments
Pre
SIYLI Pre-assessment
Post

Course Evaluation

Teacher Evaluations

Post Practice
SIYLI Post-assessment
Note: This list will change slightly depending on the particulars of your program. For example, TT Participants using my.siyli for their practicum will have the ability to opt out of the Pre/Post Assessments.
Seeing responses
You can see how many people have responded to your program's assessments and evals on the main program page in the box on the right-hand side: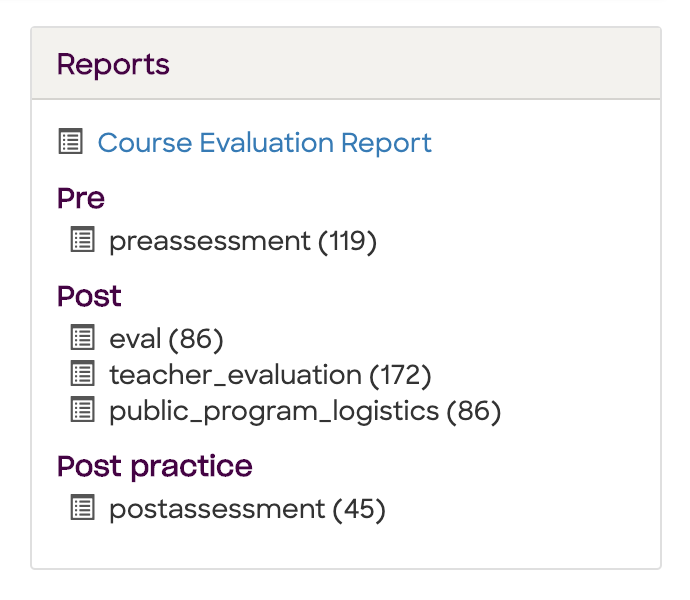 The number in parentheses tells you how many of each type have been completed. The number for teacher evaluations is multiplied by the number of teachers (so it will usually be double the number of evals when you have a co-teacher).
While surveys are active, you will see a box that identifies which participants still need to complete the surveys for that period:

This helps if you'd like to send a followup email to ask them to complete their assessments/evals.
To see detailed responses, you can access the Course Evaluation Report in the Reports box. We'll soon have a pre-/post-assessment comparison available there as well.